ADVANCED CERTIFICATE IN WINE
WSET LEVEL 3
One of the most globally-recognized achievements in the wine industry!
Level 3 Certificate in Wine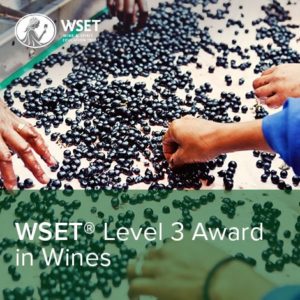 WSET Level 3 delivers an in-depth education experience that reflects today's dynamic wine industry and offers immediate value. The Level 3 certificate is one of the most globally-recognized achievements in wine and is geared towards professionals or people interested in entering the wine industry, especially those looking for increased leadership and decision-making.  Wine enthusiasts with a serious commitment will also enjoy this course, as it is interactive and customized to individual class dynamics and interests. The Level 3 course includes a complete study pack with an exclusive textbook and study workbook. Proprietary WSET films are also included.
WHAT'S COVERED
WSET Level 3 embarks on an in-depth examination of the options and limitations available to producers of every major world wine region, including France, Italy, Spain, North and South America, Australia, New Zealand, and South Africa.  For each region we examine the natural and human factors that impact wine style, quality, and price. The study pack and textbook are completely new and include links to WSET films. Students who successfully pass a final examination, including a written and tasting portion, are entitled to the title "WSET Level 3 Certified" and to use the WSET logo on their professional materials.
CLASSROOM COURSES
When taken in person, the Level 3 course usually meets over 16 two-hour sessions or 6 weekend days.  We feel this format gives students the best opportunity to really digest and process information—as well as practice tasting—prior to the challenging final exam.  Systematic wine tasting is a part of every session, with more than 90 wines tasted in the course.
ONLINE COURSES
The Level 3 online course is a 9-week program consisting of a series of online activities, often based around group discussion, with an online tutor allocated to guide students. Each week covers a new topic and students can log in whenever they want during the week.  Students are given timed practice exams and assignments to prepare them for the final evaluation.  Tasting activities are also provided for participants to do in their own time.  Students arrange with Grape Experience Wine and Spirit School  to take the exam in person.
For the complete specification for this course click here
LEVEL 3 - UPCOMING CLASSES
LEVEL 3 - San Francisco - Weeknights
15 Mondays From April 17-August 7, 2023
6-8:15PM – Exam August 24, 2023
No class Memorial Day, May 29 or July 3, 3032
Class comes with access to new exclusive recorded sessions and extra online study support features!

Enroll by April 1, 2023
The Barrel Room
415 Sansome St, San Francisco, CA
Price includes all study materials, class wines, examination (one attempt), tuition, and U.S. postage
You must be vaccinated against COVID 19 to enroll in this course.  
New Class begins April 4 and runs through June 4, 2023
Exam on July 17, 2023 in South San Francisco at 10am
Registration closes March 25, 2023 at noon Pacific Standard Time
Comes with link to Online Lectures via Commonwealth Wine School
Price includes all study materials, examination (one attempt), tuition, and US postage
Sorry, Sold Out.