SAKE LEVEL 1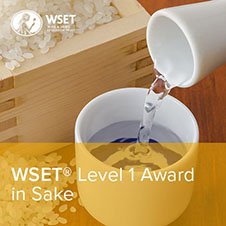 A beginner level introduction to Sake for those starting a career in the beverage industry or just an interest to learn more about Sake.
This qualification offers a hands-on introduction to the world of sake. You'll explore the main styles and types of sake through sight, smell and taste to develop an understanding of the key factors affecting flavors and aromas. Upon successful completion of a short exam you will receive a WSET certificate & pin.
SAKE LEVEL 3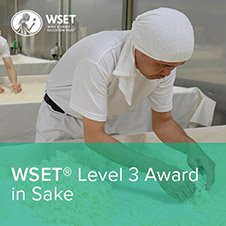 A qualification for professionals or sake enthusiasts.
For individuals seeking to develop a more in-depth expertise in sake, this qualification will provide you with a detailed understanding of the production methods that affect the style, quality and price of sake. Upon completion you will be able to assess sakes accurately, and use this information and your understanding of sakes to make authoritative recommendations. Upon successful completion of the exam you will receive a WSET certificate and lapel pin, and will be able to use the associated WSET certified logo.
The WSET Level 3 in Sake examination is in two parts: a blind tasting of 2 sakes and a written theory examination. Both parts require a pass grade in order to be awarded the Level 3 Award in Sake. The examination duration is 2 hours and 15 minutes.
The Level 3 Sake course includes a complete study pack with an exclusive textbook and study workbook.
SAKE LEVEL 3 San Francisco - Zoom & In Person
October 15 & 22, 2023  from 10am – 1pm Via Zoom
In person October 23-24 2023 from 10am – 4pm
Exam at 1pm on October 24, 2023 or at a future date to be arranged with the instructor
Takara Sake USA, Berkeley, CA
Register by October 9, 2023