We offer two different introductory WSET courses.  Our Level 1: Foundations and Level 2: Intermediate programs are open to anyone—no experience necessary—and are  great starting points whether you're seeking a career change or promotion, or simply want to deepen your wine knowledge. Note that you do not need to take Level 1 to take Level 2—in fact, for those looking for a serious wine class, we generally recommend starting with Level 2.
LEVEL 2 WINE & SPIRITS: OUR RECOMMENDED STARTING PLACE
The WSET Level 2 certificate is the best starting point for people who have an understanding of the basics of wine. The Level 2 course is appropriate for anyone who works in wine, wants a career in the industry, or has a serious interest and wants to deepen their wine knowledge and become a more confident taster.  Don't be confused by its name: though it's called Level 2, this course is geared towards people just starting their wine education. It offers greater depth of material, tasting opportunities, and additional classroom hours compared to Level 1. If you know the basic wine grapes—that Chardonnay is a white wine and Cabernet Sauvignon is usually red—then Level 2 is the place to start.
WHAT'S COVERED
The Level 2 course focuses on how to systematically taste wine, as well as the factors that influence style, quality, and price.  We'll also go into depth on the world's major grape varieties and types of wine, including white and black grape varieties, sparkling wines, sweet wines, spirits, and liqueurs.
At the end of the course, you'll complete a 50-question multiple-choice exam, and upon passing will receive a Level 2 WSET certificate.
CLASSROOM COURSES
Level 2 covers the wines and spirits of the world in 8 segments (held either weekly or over the course of 3-4 days). Wine tasting is a part of every session with more than 40 wines tasted during the course.
ONLINE COURSES
The Level 2 online course follows a 5-week program consisting of a series of online activities. An online tutor runs the WSET online classroom to guide students. Each week covers a new topic and students can log in whenever they want during the week (there are set start and finish dates for each week, but no set class time). Tasting activities (to be done on the student's own) are also provided to familiarize students with a systemic approach to tasting at an intermediate level.  When the course is over, students arrange with Grape Experience to take the exam in person.
The Level 2 course includes a complete study pack with an exclusive proprietary textbook and study workbook.
LEVEL 2: San Francisco
Starts September 10, 2019 and runs 6 Tuesdays from 6-9:00PM
No class October 8
Exam Tuesday October 29 from 6-7:15pm
Holiday Inn, 1500 Van Ness Ave. San Francisco
LEVEL 2: Boston - Weeknights
9 Mondays starting September 16, 2019 6:00-8:00PM
Boston Center for Adult Education (BCAE)
No class Columbus Day October 14, Veterans Day November 11 or November 25
Exam December 2 from 6-7pm
TOTAL COST is $830
Contact BCAE to pay $535 Course fee at 617-267-4430
Before the first class pay remaining $305 materials fee below
Class begins April 13, 2019.
Registration closes 1 week prior to the course start date.
LEVEL 1: FOUNDATIONS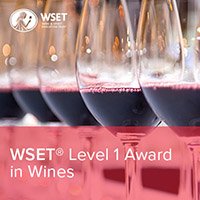 The WSET Level 1 course offers a true beginner's overview of wine, and is geared to anyone with an interest in wine for personal enjoyment or launching a professional career.  It's a particularly good starting point for people just beginning to work in restaurants, hospitality, or retail.  Level 1 is a fun way to get up to speed on what wine is and how it differs by style.
WHAT'S COVERED
The Level 1 course provides a systematized way of learning about and tasting wine, focusing on knowledge that is practical, hands-on, and designed to build a foundation for future exploration. The course will introduce you to basics of wine, broad different styles, simple storage and service rules, and easy techniques for pairing wine with a range of foods.
At the end of the course, you'll complete a short, multiple-choice exam, and upon passing, will receive a Level 1 WSET certificate.
This course comes with a proprietary WSET wine workbook.
Level 1 - San Francisco
WSET Level 1
Sunday June 2 from 10:30AM-5PM
45-minute Exam same day at end of class
ENROLL BY May 25, 2019
San Francisco WIne School
415 Grand Ave in South San Francisco
Sorry, Sold Out.
Summary
Service Type
WSET Level 2 and Level 1 Courses
Provided by
Grape Experience WIne & Spirit School
,
229 Brannan St
,
San Francisco
,
California
-
94107
,
Telephone No.4153090761
Area
San Francisco Bay Area and Greater Boston
Description
WSET Levels 1 and 2 are the perfect starting places to begin wine education. In fact if you already know a little about wine you should start at WSET Level 2. Grape Experience WSET Level 2 courses build confidence, knowledge and enthusiasm in wine.